International Medical Center

and

Ambulatory Care Network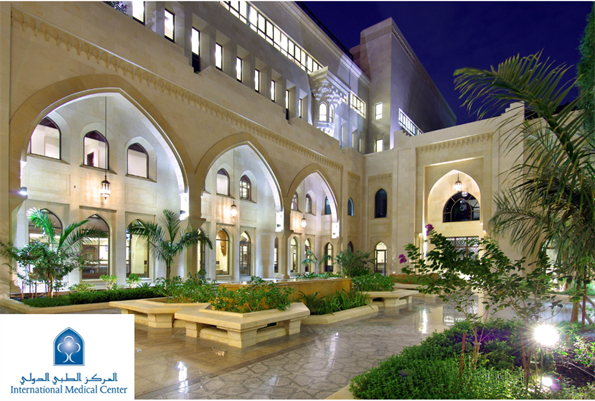 The top three crescents of our logo symbolize the body, mind and soul which are to be cared for to reach optimum health. This also demonstrates the holistic approach to treatment and healing. The lower crescents which form the trunk and roots symbolize the international standards and divine ethics which are vital for the survival of the tree.
The IMC Network is a corporate organization that has two major arms, the Campus and Ambulatory Care Network (ACN). The campus is the primary healthcare facility, a multi-disciplinary hospital that features specialty centers providing a wide range of comprehensive treatment options for different health problems. These services are delivered by more than 150 US, Canadian and European certified physicians in more than thirty specialties.
The hospital is equipped with state-of-the-art facilities that enable it to rank among the best healthcare providers in the region. The IMC was inaugurated in 2006 by the Custodian of the Two Holy Mosques King Abdullah bin Abdulaziz and the late Crown Prince Sultan bin Abdulaziz after more than twelve years of extensive planning. Our main aim is to be the ultimate trusted healthcare institute in the region through creating a patient-centred environment and focusing on a holistic approach to medicine and caring for the patient's body, mind and soul.
On the other hand, the Ambulatory Care Network consists of ambulatory medical centers. The first acquired center is The First Clinics, a general medical complex located in the heart of Jeddah city on the King's road, that provides major outpatient services including radiology, laboratory, day procedures unit and community pharmacy. Adding to that emergency services, the basic element to meet the needs of urgent cases. In the future, ACN will expand to having 3 more medical centers places in, Makkah (2023) North Obhur (2024) and Almurjan (2025).
Learn more: