​Please keep trying!
More appointments are added throughout the day. Take the first available appointment, even if the appointment offered is for a different day/time to the one that you booked on the KAUST booking system.
If your KAUST booking/QR code has expired, don't worry, the team will record your KAUST ID details for our system.
Important:
Please DO NOT come to the testing station at the KAUST Inn if you DO NOT have a booking and QR code from Sehhaty
If you have a KAUST appointment scheduled for today and cannot book an appointment through Sehhaty please continue to try and book an appointment through Sehhaty and come to the testing center when this has been achieved
If you have a Sehhaty booking and QR code, please come for your test at the KAUST Inn.
Reminder: testing stations are open 15:00- 21:00
COVID-19 Screening test results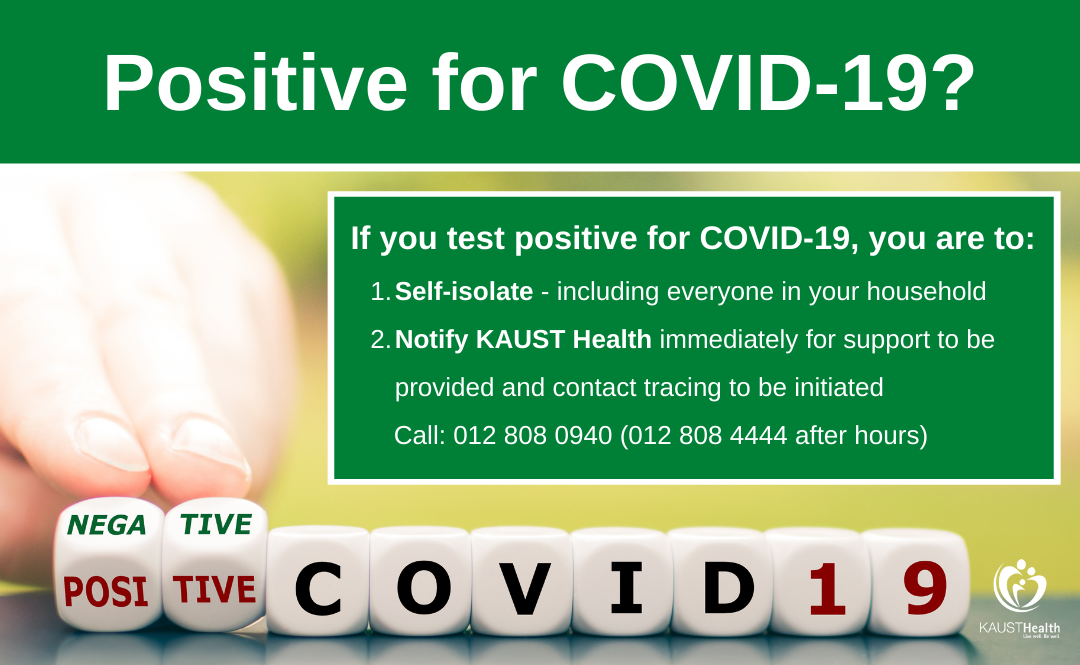 The results of your test will be available through the Sehhaty App within 24-72 hours. Please make sure that you check the results for everyone in your household.

Positive for COVID-19? What should I do?
If you test positive for COVID-19, it is your responsibility to:
Self-isolate immediately – including everyone in your household
Notify KAUST Health immediately on 012 808 0940 between 8 a.m. and 5 p.m. Sunday to Thursday or 012 808 4444 at any other time. You will be given advice and support and contact tracing will be completed.
Important
It is your responsibility to report a positive result to KAUST Health. Failure to do so may result in the spread of COVID-19 throughout our community and will be considered as a violation of the Code of Conduct and could lead to sanctions being taken.
We appreciate your support and cooperation in Keeping KAUST Safe.