Zero-Nutritional Value Food
Identify, Eliminate, Replace… and Win
KAUST Health and Community Life Food Safety & Quality team, in collaboration with the Dubai municipality, invite KAUST community members to participate in the upcoming Zero-Nutritional Value Food challenge. Food with zero or very little nutritional value does not support good health and well-being. It is usually high in calories and can contain artificial ingredients, lacking vitamins, fiber, and good quality fats and carbohydrates.
Use your knowledge and determination to adopt new healthier eating habits and win one of five Instant Vortex Plus Air Fryer!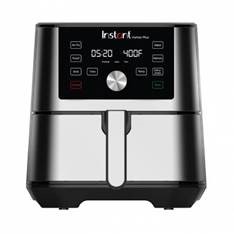 To participate in the challenge:
1.Attend one of the educational sessions:
Monday, March 14 (3:15 p.m. - 4:00 p.m.)
Tuesday, March 15 (12:30 p.m. - 1:00 p.m.) for TKS only
Wednesday, March 16 (6:00 p.m. - 6:45 p.m.)
No registration is required.
2. Complete the 5-day challenge which starts on March 20: - to eliminate items of zero-nutritional value food from your diet and replace it with healthier food options.
3. After completing the challenge, share your story on a piece of paper by answering three questions:
List down the zero-nutritional value food you Identified
List down one method you used to Eliminate
List down the nutrition rich food you used as a Replacement
Add a comment or thought on your experience

Write your name, KAUST ID and mobile number and submit this in the raffle box located at the big Tamimi on March 26-27
Who can participate?
The challenge is open to all KAUST community members.
Results:
The raffle draw will take place on March 29
Random selection from all entries made that meet the criteria
Five winners will be chosen and will be contacted by March 31
Winner's names will be announced on March 31 via the Lens.

For more information about the challenge, you can contact: fatmah.hadadi@kaust.edu.sa